Mistana of Charab (HMR Mistabi x Summeraff)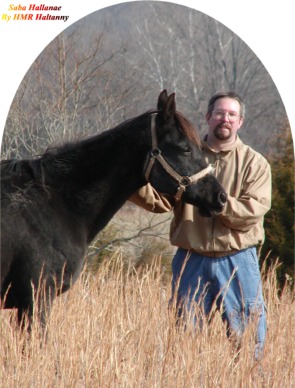 Saba Hallanae at age 21
Newest Member of the Family; Saba Hallanae
Saba Hallanae lived nearly 22 years from 1981 to March 4, 2003. Cause of death still unknown. Likely cause Neurological disorder.
Granddaughter of Hallany Mistanny, bred through the Howard Marks breeding program. Sire was HMR Haltanny and dam was Romaga.
For the Love of Nile Isabeau!
IN MEMORY OF NILE ISABEAU! 1990 to 2002
Saturday, January 26th, I went to Nebraska to bring home a wonderful, beautiful Straight Egyptian mare that was in foal to a wonderful, classic Arabian stallion with the old Arab bloodlines; Tajhan, son of Farazdac.

Had two wonderful days with Issy then on Monday, January 28, marked the end of her life with a tragic accident. Too painful to describe here, but I was there next to her as she went over the Rainbow Bridge.

Issy was 11 years old and was 9 months pregnant with no possible way to save the baby.